Senior Member
Join Date: Oct 2002
Posts: 8,950
Vakulenko hits 13 aces against Frazier!
---
i just started looking over some match stats and vakulenko hit 13 aces against frazier in a 6-2 6-4 win in the match they just had.
Senior Member
Join Date: Oct 2001
Location: New York City
Posts: 10,386
their stats arent trust worthy...last year they were wrong most of the time...
---
VENUS. ANA, TAY TAY. NICOLE. LAURA. KONJUH. MADISON
SERENA. MUGU. VIKA. PETKO. CARO. TIMEA. SVETA. HEATHER. KAIA. TAMIRA. FLAVIA. GEORGI. COCO. LUCIE, SLOANE. PENG. SORANA. ALICIA. JAEDA. CICI. ANETT. DANKA. DONNA. FRANCOISE.
GONE BUT NOT FORGOTTEN. SHENAY. DINARA. GISELA. SPREM.
Senior Member
Join Date: Nov 2001
Location: :noitacoL
Posts: 16,998
Well done Julia none the less..
Senior Member
Join Date: Oct 2002
Posts: 8,950
yes, it was still a good win. it was her fourht win in a wta maindraw. the other wins were over craybas, gagliardi in may 2002 and tulyaganova in 2001. i'm a bit surprised about those wins over gagliardi and tulyaganova because at that time those players were in good form. gagliardi had come off her semi-final run at indian wells and iroda was haviing her breakthrough year and she won the matches in straight sets. 3 out of her 4 wins on the tour have been in staright sets which is a stat that i hope she can keep building on.
Senior Member
Join Date: Nov 2001
Location: :noitacoL
Posts: 16,998
Vakulenko beats Frazier at Bausch & Lomb
By Associated Press, 4/14/2003 20:33
AMELIA ISLAND, Fla. (AP) Showing no lingering effects from two broken hands last year, Julia Vakulenko upset Amy Frazier on Monday in the opening round of the Bausch & Lomb Championships.
''I served really well,'' Vakulenko said after her 6-2, 6-4 victory at Amelia Island Plantation. ''I didn't make a lot of mistakes.''
Vakulenko thought she was on the verge of breaking into the top 100 in the world rankings before her freak injuries just two days apart last June. She fractured a bone in her left hand when she fell at her Barcelona home, then she broke her right hand when she fell during practice.
She then strained an abdominal muscle and missed six months. She couldn't get dressed by herself, or tie her shoes.
''My mom had to help me,'' the 19-year-old Ukrainian said. ''It was difficult to sleep, because I couldn't put my hands anywhere.''
Vakulenko used powerful ground strokes from both her forehand and backhand Monday, and kept Frazier running along the baseline.
The tournament lost 1998 champion Mary Pierce, who withdrew because of a hip injury and a sinus infection. Pierce strained her right hip in last week's Family Circle Cup in Charleston, S.C.
She will be replaced in the field by Russian Alina Jidkova.
The 43rd-ranked Frazier was the highest-ranked player to lose Monday. Other winners were No. 29 Vera Zvonareva, No. 48 Nicole Pratt and No. 53 Jill Craybas.
No. 86 Tathiana Garbin rallied from a 4-6, 1-5 deficit to beat American Shenay Perry in three sets. Garbin won nine consecutive games before Perry was able to hold service at 3-1 in the third set. Garbin survived 43 unforced errors and seven double faults.
@ the accidents
Wow. Good to see Amy back, but a sad loss here.
Senior Member
Join Date: Oct 2002
Posts: 8,950
thanx for the article Spicy Bullet.
Watch out of the up and coming young Ukrainians...
Here is a pic. Love butterflies...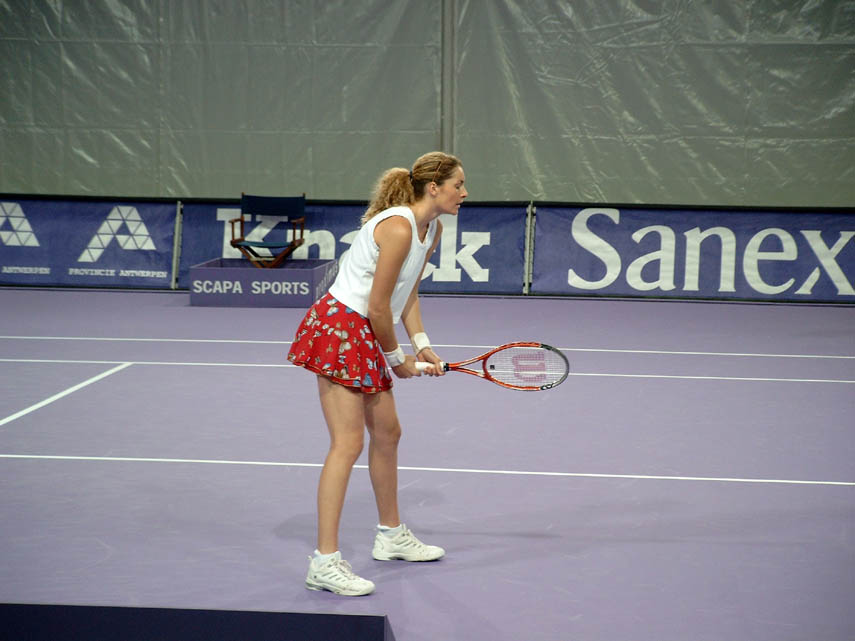 Senior Member
Join Date: Oct 2002
Posts: 8,950
doesn't work for me, i just see a tripod thing.
Senior Member
Join Date: Nov 2001
Location: :noitacoL
Posts: 16,998
*stab* Tripod
Mary
Omg @ Julia's Hand Injuries
Shenay...
Thanks for the article Jordan.
---
azarenka - pavlyuchenkova - li - jankovic
garcia - bencic - paszek - rus - kanepi - kuznetsova - stephens
bouchard - karatantcheva - larcher de brito - voegele - lim - mladenovic

mary pierce - forever #1
vaidisova - kournikova - golovin - henin
the boys - federer - gasquet - del potro - haase - nishikori
Posting Rules

You may not post new threads

You may post replies

You may not post attachments

You may not edit your posts

---

HTML code is Off

---