Look... that's very strange
---
Dubai 2001 Finalist: Nathalie Tauziat (retired in that year)
Dubai 2002 Finalist: Sandrine Testud (retired now)
---
Inspiration is for amateurs
Faves: Mona Barthel / Samantha Stosur / Roberta Vinci
Oooooh God!
Dubai the tournament of future retired players...
---

serena
townsend × rezaï × lisicki × vesnina × aiava
keys × mladenovic × osaka × broady × jankovic

♥
Senior Member
Join Date: Sep 2001
Posts: 7,401
Right Alex.....Dubai sound like Do
BYE
.
---
SMARTINA---The Thinking Game!!!!

SERENA---The Goddess in planet Venus.

"Happiness keeps us Sweet
Trials make us Strong
Sorrows keep us Human
Failures keep us Humble
Success makes us Eager,
But Love keeps Us Going"

lol@jomar
---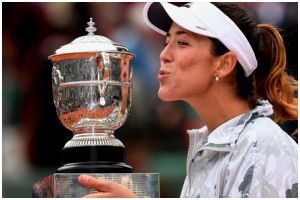 What would you say if we could make
something amazing
Senior Member
Join Date: Oct 2001
Location: shower ;)
Posts: 5,294
Testud retired? Did I miss something? I didn´t know that!
---
WELCOME BACK, MARTINA
Delicious Martin
Team WTAworld
Senior Member
Join Date: Dec 2001
Posts: 7,824
she retired after Wimby & said she is carring a baby
---
Cogito, ergo sum.
Posting Rules

You may not post new threads

You may post replies

You may not post attachments

You may not edit your posts

---

HTML code is Off

---