Serena's Childhood Ambition To Be #0
---
She said after match today that she wasn't very bright (her words, not mine!), and she wanted to be "number zero". I thought this was pretty funny, myself.
She's one step away from realizing her dream now!
Watch out WTA - SisterSerena will be ranked 0 very soon
This beats the other "quote of the day" by a LONG shot.

Thanks for the bit.
lol... Serena is so cute...
---
VENUS
Serena
Lindsay Jelena Maria

Mary : Monica : Svetlana : Sania : Jennifer : Amelie
Roddick : Grosjean : David : Djokovic
Senior Member
Join Date: Jan 2002
Posts: 7,804
Yea I saw that too. Bud Collins interviewed her and she started crying and was very emotional. After the zero comment, Serena said Richard said no, zero is not the best, 1 is the best and that was her dream since then to be #1.

Serena also said she would prefer to win Wimbledon to being number one.
LOL
---
In the middle of the night
I go walking in my sleep
Through the desert of the truth
To the river so deep
We all end in the ocean
We all start in the streams
We're all carried along
By the river of dreams
In the middle of the night
Senior Member
Join Date: Jan 2002
Posts: 7,804
I think it went somthing like this after the 0 comment:
-My dad asked me. Serena what do you want to be when you grow up?
-I want to be the best.
Join Date: Nov 2001
Posts: 27,280
LOL
.
Serena has a good sense of humour
.
Senior Member
Join Date: Jan 2002
Location: Australia
Posts: 2,879
hehe, cute
---
TAMARINE TANASUGARN
Senior Member
Join Date: Mar 2002
Location: Currently in Maryland
Posts: 1,857
With a childs' heart...
---
I too, was amused by Serenas' little story to Bud Collins, when he interviewed her after the Mauresmo match. I remember thinking, "only in a childs' mind would zero be better". It was truely funny.
Senior Member
Join Date: Jan 2002
Location: the sexy side of the colo
Posts: 3,402
The way Serena's been playing lately, maybe we do need to classify her as something other than #1.
---
Venus and Serena are sitting on top of the WORLD

~Venus and now Serena are the worst thing to ever happen to the crow~

Official POPLOCKER of the Royal Court
cute
---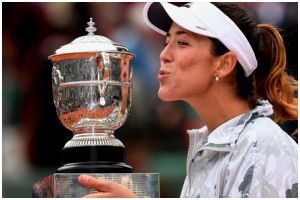 What would you say if we could make
something amazing
Senior Member
Join Date: Mar 2002
Location: aka TennisPower
Posts: 3,453
Ahhhh child's mind! So pure, so clear! After all, Zero does come before One. Even the Ancient Romans couldn't figure this out: they called year-0, year-1; and we've been stuck with that mistake ever since.
---
** TP for Topaz or TennisPower **

"Playing aggressive tennis ... that's always the way to go, if you ask me." - Venus Williams, May/2002
"Some shots I will hit hard but not every ball. I'm not just using my power." - Serena Williams, Oct/2002
Senior Member
Join Date: Feb 2002
Location: American Jungle
Posts: 6,149
Tennis Power, persond--ditto!
I thought the same thing when I heard Serena say that. Only a child would see zero coming before one and equating it with being first and the best!
Good one, Serena.
Posting Rules

You may not post new threads

You may post replies

You may not post attachments

You may not edit your posts

---

HTML code is Off

---