Article: A different look at Clijsters' farewell tour
---
A different look at Clijsters' farewell tour

By
Bonnie DeSimone
Special to ESPN.com
KEY BISCAYNE, Fla. -- There's always been something slightly retro about Kim Clijsters.
She would have fit right in on "Happy Days," as a friend of Richie Cunningham's little sister Joanie, giggling over malts at Arnold's and making eyes at Potsie. If she'd grown up in the United States in the 1950s, Clijsters surely would have been on the pep squad, with a picture in the yearbook next to Best School Spirit.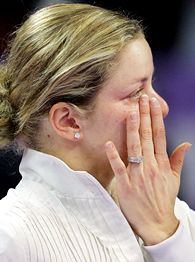 AP Photo/Yves Logghe
Clijsters couldn't hold back the tears last month in Belgium following the final appearance in her home country.
Yet Clijsters' recent announcements might lead people to believe she's coming up a little short in the spirit department. When she said 2007 would be her last season of professional tennis, many fans expected her to do a full-blown farewell tour. Instead, Clijsters has booked more of a victory lap lite.
She's skipping the entire clay court season, including the French Open. She's taking a pass on Belgium's first-round Fed Cup tie against the U.S. (featuring the Williams sisters) next month. Clijsters has committed to just a handful of other events this season, including Wimbledon.
The Sony Ericsson Open could be her last appearance in North America. The 23-year-old Clijsters recently said she might not play the U.S. Open, where she broke through to win her one and only Grand Slam title in 2005. She's not sure the timing is right on the heels of her July 14 wedding to former Villanova basketball player Brian Lynch and their subsequent honeymoon. Lynch now plays for the professional team in Clijsters' hometown of Bree, Belgium.
This may be as selective a parting kiss as tennis has seen in a while, but Clijsters, sitting calmly in the center of a scrum of reporters, is obviously comfortable with it.
"So far, things have been going really well for me this year," said the fifth-ranked Clijsters, who won in Sydney earlier this season and reached the semifinals of the Australian Open. "I feel really good at the tournaments I'm playing. I don't want to go to a tournament anymore knowing I'm not physically 100 percent or mentally fresh."
But she's not waving from a parade float.
"I'm playing in these tournaments because I want to do well," she said. "I'm definitely not playing in these tournaments just to say goodbye."
A reporter asked why she was eschewing the Fed Cup.
"I don't feel like it this year," she said softly.
Her thinking may be puzzling, even maddening, to her fans and followers of the game in general. To which a devil's advocate could respond:
Get off her back!
Women's tennis players can't catch a break. When young teenagers compete under the sway of overbearing fathers or Svengali coaches, we bemoan their lost childhoods. When they play past their primes and tell us they carry on because they love it, we grumble that they should hang it up and leave us our untainted memories.
Now comes a smart, personable woman, a five-time Grand Slam finalist, winner of 34 titles and nearly $15 million in prize money, a former world No. 1, a veteran of injury and surgery and rehab that would make most of us curl our toes with dread. She's eager to have children after all that, yet some people want to label her an underachiever.
Is Kim Clijsters a Hall of Famer?
YesNoClijsters openly lusts for domestic life when deferring it has almost become the norm for bright young women in sports and elsewhere. She's at ease with being a player's wife and cheering for her husband's team from the stands. Maybe people would cut her more slack if she wanted to pursue an advanced degree.
It's not as if Clijsters is blithely sauntering through her limited schedule. In fact, she may feel things a little too deeply. She talked about saying goodbye to staff people who work the tournament desks, exchanging phone numbers and e-mail addresses with volunteers she'd gotten to know over the years.
She admitted it would be hard to top the emotion of her last match in Belgium. Clijsters lost to Amelie Mauresmo in the final at Antwerp a month ago. When she walked out on the court to address the crowd, her lower lip began to tremble uncontrollably. She tried to still it with a finger, then had a practical thought: "I'm not gonna stand here for half an hour trying to hold my lip." That's when she broke down.
"I didn't know it was going to have that much of an impact on me," she said, her voice still a little shaky in the retelling. "I don't know if you guys saw any of it, but I cried every fluid out of my body, I think. Afterwards just going home and to the supermarket, people were coming up to me and hugging me."
As for her seemingly odd and abbreviated farewell tour, athletes wreck the grand finales we script for them all the time. Everyone doesn't get -- or want -- the Andre Agassi lovefest.
Not so long ago, Pete Sampras wrote himself a Hollywood ending against Agassi at the U.S. Open, yet couldn't pull the trigger on retirement until months later. Boris Becker thought he had picked the perfect moment, confiding in Sampras across the net at Wimbledon before he told the world, but then couldn't resist returning to play on Centre Court.
Sportswriters' clip files are full of carefully crafted tributes made obsolete by changes of heart. Clijsters knows folks think her resolve might waver, talk fueled by Martina Hingis' renaissance.
"People are already asking me if I'm thinking about a comeback while I haven't even retired yet," she said. "I'm very happy that she's back, but I doubt that I would be in that position someday."
So what if Clijsters is taking the express train instead of the local this year. That's her business. If it's the worst decision she ever makes in her life, she'll do pretty well.
Clijsters isn't stringing anyone along. What else does she owe the game besides an honest effort when she's on the court, and honest comments off it?
Perhaps the people who have enjoyed watching her over the years owe her the courtesy of being disappointed about her imminent departure, but not judgmental.
It's natural for fans -- and writers -- to root for tennis players to have long and interesting careers. But the gains made by female athletes in the last few decades mean little if they don't include the right to put their personal lives ahead of their professional ones when they see fit, retro as it may seem.
Many years ago, that would have been expected of them. How nice now that it's their choice.
Bonnie DeSimone is a freelancer who contributes frequently to ESPN.com
Re: Article: A different look at Clijsters' farewell tour
---
It's her life, and her career. Some people think Kim should do this or do that, but this is how she wants to play out her last year.
---
The most wasted of all days is one without laughter....
Even if you're on the right track, you'll get run over if you just sit there
Enjoy This Moment!!
HEALTH and HAPPINESS to EVERYONE
Posting Rules

You may not post new threads

You may post replies

You may not post attachments

You may not edit your posts

---

HTML code is Off

---