The Russians Have Come -- What Have They Left?
---
http://sports.espn.go.com/sports/ten...ory?id=2804665
The Russians Have Come -- What Have They Left?
By
Joel Drucker
Special to ESPN.com
No question, the Russians have left their mark on tennis. This week there are seven men and 16 women with rankings in the top 100. They never seem to stop coming.
So how do we cogently assess the Russian impact and legacy? Understanding what they've brought, taken and will leave the sport reveals much about how tennis has evolved. Consider what the Russians have contributed:
Work ethic
Longtime coach Vic Braden puts it best, "You ask a Russian to put in one hour and you'll get two hours of work." This is a nation of court rats. The way talent is spotted, developed and pruned in Russia -- a deregulated factory akin to the way East German Olympic athletes were trained -- demands exceptional time spent honing technique.
In some cases, they're precocious. Marat Safin, Yevgeny Kafelnikov, Anna Kournikova and Maria Sharapova all shot out of the blocks. As ESPN analyst Pam Shriver notes, "Kournikova began her career like she owned the court."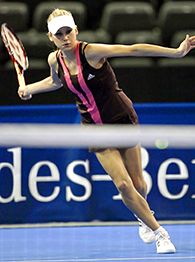 Warren Wimmer/
Anna Kournikova was a full-time member of the WTA Tour at age 15, but retired six years later with no career titles.
Others are late bloomers, fine juniors who took a while to become first-rate pros. Nikolay Davydenko, Dmitry Tursunov and Anastasia Myskina scarcely blossomed until each was past the age of 21.
Many Russians boast Olympic pedigrees, one or even both of their parents having been world-class athletes. While this may not necessarily mean athletic skill is genetic, if sports is the family business, the carryover is strong. "Mine was a cycling family," says Svetlana Kuznetsova. "That helped me see how much work it took to excel."
Cosmopolitan Tennis Education
Moscow is only 1,500 miles from London, but in tennis terms it might as well be 15,000 miles away from anywhere. No nation more than Russia has proven that tennis is a global sport. Safin, his sister Dinara Safina and Kuznetsova moved to Spain in their teens. Kournikova and Sharapova were even younger when they each relocated to Florida. Nadia Petrova has based herself in Egypt, Holland and Cyprus. Tursunov moved to California at the age of 12. Myskina refined her game near Los Angeles.
"It's very simple," says ex-pro and notable coach Jose Higueras, a Spaniard who's lived in the Palm Springs area for 25 years, "you go where the resources are that help you get better."
A Little Decadence Never Hurt Anyone
Imagine growing up in a land where you never got to make a personal choice. Imagine having your struggling parents virtually shove tennis down your throat in hopes of you becoming a meal ticket. Imagine living in a nation of economic chaos. Imagine earning hundreds of thousands of dollars.
Even the most focused athlete might wish to enjoy a few of the fruits of his or her labor. Kafelnikov kept thousands of dollars in his racket bag and bought a private jet. Safin's been known to enjoy more than a night or two on the town. Kournikova became a character out of an Andy Warhol movie. As Olga Morozova, Russia's sole top-ten player in the '80s, says, "The whole idea was to get out of Russia, to use tennis as a means of finding freedom. Then, once the player's out, her future is in her hands. There are lots of tricky choices." But as Safin once asked, "How do I know what to choose?"
World-Weary
Hunger gets the Russians out on the tour, but it can also keep them on the courts too long. Virtually all of them maintain exceptionally busy schedules, often playing in excess of 25 events a year. The result is that's it rare to see a Russian looking particularly refreshed. They are supreme clock punchers. A notable example of this came in 1999, when Kafelnikov became No. 1 in the world while at the same time losing in the first round of six straight tournaments. Last year, at 27, Safin announced his plans to quite by age 30. As he once said, "It is tiring, this tennis life."
But need it be? Perhaps a bit more attention to pacing and scheduling could ensure that the Russians post better results at the high-stake events and enjoy happy, healthy careers. Hall of Famer Roy Emerson says, "You should savor your time on the court. There are a lot harder ways to earn a living."
Narrow Games
Russia is a nation where court time and space is limited. In this environment, the best way to evaluate talent is to reward children who master repetition. Technique is paramount. Some Russian coaches are known not to let their players compete for three years. Russian players become experts at banging balls into corners with mind-numbing frequency. Says Braden, "They are fit, they will grind, that's their style."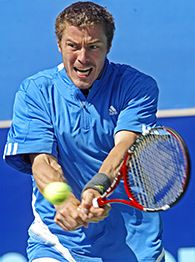 Cynthia Lum/
Though one of the games biggest talents, Marat Safin has finished a season ranked in the Top 10 just three times in nine years.
Granted, forceful groundstrokes are the essence of tennis -- particularly these days. But once on the tour, rigidity can be exposed as a liability. It's not likely the Russian tennis culture's emphasis on repetition and technique helps a player learn to problem-solve in a self-reliant manner -- that is, adapt to various opponents or alter strategies and tactics. When Safin burst on the tour in 1998, he was undone by Jim Courier in a Davis Cup match when Courier started to slice his backhand. A decade later, Safin still admits he'd rather have a root canal than play contemporary slice-and-dicer Fabrice Santoro.
It's doubtful a player who brings texture and diversity to tennis such as Martina Hingis, Andy Murray, Roger Federer or even Tim Henman will ever emerge from Russia (though coachless Anna Chakvetadze could be an exception). And as the early exit of Bjorn Borg demonstrated, a game based mostly on attrition might generate short-term wealth but compromise long-term health.
No wonder the Russians are so world-weary. Many are quite smart, waxing about the books they've read, trips to museums and the pleasure they take in exotic foods. Their brains exceed their games. It's tragic that a nation with such a rich tradition of literature would yield tennis players who mostly excel at composition.
Joel Drucker is based in Oakland, Calif., and writes about tennis for Tennis Magazine and The Tennis Channel.
---
The most wasted of all days is one without laughter....
Even if you're on the right track, you'll get run over if you just sit there
Enjoy This Moment!!
HEALTH and HAPPINESS to EVERYONE
Re: The Russians Have Come -- What Have They Left?
---
I wish Britain could get its act together and just do half as well as Russia!
Senior Member
Join Date: Sep 2001
Posts: 25,047
Re: The Russians Have Come -- What Have They Left?
---
Quote:
Originally Posted by Joel Drucker, Tennis Magazine
It's tragic that a nation with such a rich tradition of literature would yield tennis players who mostly excel at composition.
A partucularly nice turn of phrase, and a well written article. I'm not sure I agree with him only because there are so many Russian players I come close to seeing them all play. He did identify the exception in Chakvetadze, and that explain WHY she doesn't have a coach.
---
Proud to be an American
Not blind. Not uninformed. We are party to atrocities. But the response of the world after 9/11 is worth noting. Even our most dire enemies offered aid. We should all be so lucky.
Senior Member
Join Date: Aug 2006
Posts: 7,681
Re: The Russians Have Come -- What Have They Left?
---
They (the Russians) should be very proud of what their tennis women (and men) have achieved since the sudden rise in 2004.
Re: The Russians Have Come -- What Have They Left?
---
Many of the Russian tennis players have left Russia to train elsewhere so I'm not sure how much credit Russia deserves with the Russian tennis boom.
I think the Russina's will continue to be a factor in women's tennis because of their numbers of ranked players. But I don't see any of them dominating other than possibly Maria Sharapova.
---
Happiness is like a cat. If you try to coax it or call it, it will avoid you. It will never come. But if you pay no attention to it and go about your business, you'll find it rubbing up against your legs and jumping into your lap. - William Bennett
http://cornedbeefhash.files.wordpres...arcelona08.jpg
---
Last edited by the cat; Mar 21st, 2007 at

12:17 AM

.
Posting Rules

You may not post new threads

You may post replies

You may not post attachments

You may not edit your posts

---

HTML code is Off

---