View Poll Results

: Who has the best Swinging-Volley - ever?

Monica Seles
9
14.29%
Venus Williams
22
34.92%
Serena Williams
4
6.35%
Kim Clijsters
6
9.52%
Lindsay Davenport
3
4.76%
Maria Sharapova
5
7.94%
Elena Dementieva
2
3.17%
Martina Hingis
12
19.05%
Voters: 63. You may not vote on this poll
Who has the best Swinging-Volley - ever?
---
For me it is between Venus and Monica, but I have to go with Vee, because she is so damn accurate at this shot!
Maybe I forgot one person, who is playing this stroke in perfection, but I guess I mentioned all of the girls who are prefering that volley over the classical!!!
Uhm, actually i think you're right about Venus, cause its one of her most consistent shots as well...
---
Wimbledon:
NO.7: VenusWilliams

NO.6:
SerenaWilliams
Monica never missed with the swinger - believe me, as a steffi fan i should know, i wished her to make a disaster of every one and she never did!
---
Tout est bien qui finit bien...
-LIFETIME MEMBER-
Join Date: Dec 2003
Posts: 40,195
Serena's looks nicer than Venus' but Venus' is a bit more consistent. That being said, they don't miss many anyway...Monica's swinger though....
.....had to vote for my baby though
---
Career Grand Slam in your 20s? Been there done that. Career golden slam your 30s?
There's only 1.
Serena.
♛♛♛♛♛♛♛♛♛♛♛♛♛♛♛♛♛♛♛♛♛♛♛♛
[23]
I would probably say it was between Venus and Monica too, but Venus has those long arms and is very accurate and consistent with this shot. It is so effective. So I would say Venus.
oh my...Venus was born to do that stuff...

Venus..and the rest are far behind..
Venus long arms taking that swing...makes you go "swoosh" and yell..."WOW"...
very heavenly shot...
Venus, without a doubt, at least in that list
---
Serena Williams.
16-Time Grand Slam Champion.
2013 Titles: Brisbane, Sony Open (Miami), Family Circle Cup, Madrid, Rome, 16th SLAM-THE FRENCH OPEN, Bastad, Roger's Cup
2013 Record: (60-4)
Venus Williams
Jelena Dokic
Martina Hingis
Monica Seles
Quote:
Originally Posted by SAEKeithSerena
Venus, without a doubt, at least in that list
You said "at least in that list"! Whom are you thinking of?!
I find it very interesting to know and I love that SHOT!
Here is one of SERENA: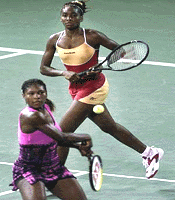 Vee in 00 and 01 was unreal on the drive, so aggressive, fearless just going for the winner, it was back to that level at Wimbledon 05, shame her drives were completley off against jankovic at this yrs Wimbledon, she could hardly make a drive or a smash in the 3rd then
---
Grassonkova.
Venus' swing volley is extremly powerful and wins her many points, in the Wimbledon 2001 finals she hit a swing volley winner when the ball was below the level of the net (she scooped the ball up at knee level!) !But sometimes she could miss one by miles when she gets over excited.

Hingis' swing volleys are not necessarily powerful but are extremly well placed and sometimes she steps in on a short ball to hit a swing volley instead of waiting for it to bounce which surprises her opponents... but her lack of power on her swing volleys sometimes allow her opponents to reach the ball, but she's ready at the net to hit the volley.

Tough choice between these 2 but I'd have to go with Hingis on this one...
---
-MARTINA HINGIS-
Unconditional Love & Support, Always and Forever, Genius, Legend, Star
All the Best, Elena Dementieva, Anna Chakvetadze, Ana Ivanovic, Jelena Jankovic, Zheng Jie, Vera Zvonareva
Keep Fighting, Keep Believing
Novak "Nole" Djokovic
Posting Rules

You may not post new threads

You may post replies

You may not post attachments

You may not edit your posts

---

HTML code is Off

---