Sun Junfang Announces Chinese Will Play All 4 GS, 7 Tier I, 7 Tier II in 2006
---
China's women's tennis set to improve in 2006
By Zhao Rui (China Daily)
Updated: 2006-01-12 07:19
China's women tennis players have successfully remained in the limelight in 2005 after the Olympic gold at Athens, but the country's leading official is taking more measures to strengthen the team for the future.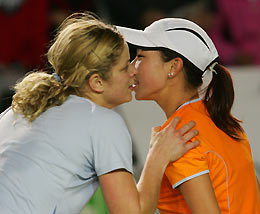 Kim Clijsters of Belgium (L) kisses Zheng Jie of China after their match at the Champions Challenge 2006 in Hong Kong January 5, 2006. Clijsters won 3-6 6-2 6-2. [Reuters]"We have to make changes as the team is facing a bottleneck," said Sun Junfang, director of the Administrative Centre of Tennis. "We did make some progress but the training we have done is not enough to lift the players into the top 20."
In the newly-released competition schedule for 2006, the squad are set to play in more high-profile events, including all four Grand Slams, seven WTA Tier I and seven Tier II Opens.
"In 2006, we will be focusing on big games rather than Tier IV or Challengers that we played in last year."
Led by tennis maverick Peng Shuai, China's female squad had unexpected success in 2005 which is highlighted by the jump in rankings. Four Chinese women players made it into top 100 for the first time as Peng reached a record 31 with Li Na two spots behind.
But problems exist. Hampered by the lack of ability to win big events, Chinese players had to play in a high number of tournaments, which contributed to frequent injuries.
Despite of the National Games, which gave her a two month break from the Tour, Zheng Jie, No 47, competed in as many as 25 tournaments in nine months, including WTA Opens and Challenges.
By any measure, most of the top players would not take on such an action-packed schedule. World No 1 Lindsay Davenport competed in 16 WTA Opens, No 4 Maria Sharapova competed in 15 while Mary Pierce, who rocked the sport with her strong comeback last year to finish No 5 in the world, participated in just 14 competitions. "Reaching only the second or third rounds of each event is definitely not enough for those who want to make the top 30," said Sun. "We need to win more points in top competitions and this is the only way to make China a steady team in the world."
The CTA has employed four foreign coaches to work with players on foot-work, stamina and tactics for the women's winter training camp. They are now negotiating with international agent companies to find more opportunities for overseas training. The national team members, including Peng, Li Na, Li Ting, Yan Zi and Sun Tiantian, who are competing in warming-up tournaments in Australia, are set to join the year-beginning Australian Open on January 16. Zheng suffered a left-knee stretch in Hong Kong Champions' Challenge, putting her Australian appearance in doubt.
Good luck to them. Hopefully they do will this year
___________
Senior Member
Join Date: Apr 2004
Posts: 10,003
It's a good thing to see the Chinese play Wimbledon!!!
Yan Zi, Sun Tiantian and Li Ting. These three's ranking isn't high enough to enter Tier II qualifying draws consistently. I hope they won't lose out because of this.
Sounds good, but I would like to see them in Cincinnati this year! Cincinnati is Tier III this year, but has attracted Davenport (2004 when it was a Tier IV), Zvonereva, Schnyder, Sugiyama, and other higher-ranked players.

It also sounds like the Chinese organization is reacting productively to the input given by the players!

Where is the recently released schedule that is mentioned in the article?
Senior Member
Join Date: Jan 2004
Location: United States
Posts: 9,738
This is very positive, I especially like the new interest in getting the players overseas training.
---
Go Ai, Venus, Na, Tamarine!
Senior Member
Join Date: Feb 2002
Location: Sometimes U.S./Sometimes Asia
Posts: 1,536
Better late than never. I really think Na Li has the game to be in the Top 15.
Uh, hello out there.
Neither the article, NOR any post ITT so far asked or answered an obvious question, based on the prize money won being sure 2B FAR higher now than in past years... will the Chinese national and provincial TA's still take 65% of it B4 taxes? (If so, the players will STILL be in captivity, just a little better paid for it).
Posting Rules

You may not post new threads

You may post replies

You may not post attachments

You may not edit your posts

---

HTML code is Off

---