Senior Member
Join Date: May 2003
Location: Pyongyan
Posts: 2,421
Caption
---
Jenn seems having fun out there.
[IMG]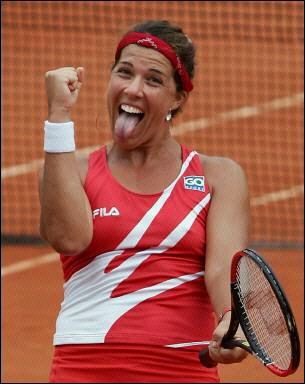 [/IMG]
and they say u cant touch ur tongue to ur elbow
---
♥ Number ONE in my heart ♥
2004-2006 MYSKINA
2006-2011 JANKOVIC
2011- KVITOVA???

Honorable Mention: GOLOVIN, SAFAROVA, CIRSTEA
*Jen sees a truck driver*

"HEY BUDDY BLOW THE HORN!!! BLOW THE HORN!!!"
---
Why is it that the world never remembered the name of Johann Gambolputty de von Ausfern-
schplenden-schlitter-crasscrenbon-fried-digger-dingle-dangle-dongle-dungle-burstein-von-
knacker-thrasher-apple-banger-horowitz-ticolensic-grander-knotty-spelltinkle-grandlich-
grumblemeyer-spelterwasser-kurstlich-himbleeisen-bahnwagen-gutenabend-bitte-ein-
nürnburger-bratwustle-gerspurten-mitz-weimache-luber-hundsfut-gumberaber-shönedanker-
kalbsfleisch-mittler-aucher von Hautkopft of Ulm?
Quote:
Originally Posted by Saint Seiya
Jenn seems having fun out there.
[IMG]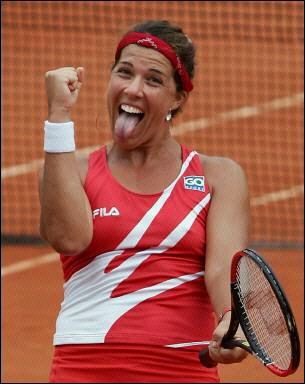 [/IMG]
Jen's Haka lessons have really paid off!
jen: i win.

to her dad: you suck!(therefore the tongue)
---
RIDING THE
3AM
ROLLERCOASTER
Anastasia Myskina my NO.1 favourite.
Daniela Hantuchova super eyecandy!
Emilie Loit heartbreaker.
Alize Cornet she's just 15!
Elena Dementieva pretty!
Amelie Mauresmo idol!
Svetlana Kuznetsova so fuckable!
ps. She was never ugly!!
All the best to:
Nathalie Dechy, Caroline Wozniacki, Justine Henin-Hardenne,
Maria Sharapova, Ana Ivanovic, Maria Kirilenko,
Marion Bartoli, Aravane Rezai, Dinara Safina,
Victoria Azarenka, Olga Poutchkova
and all the other pretty players!
I like these players because they are HAWT HAWT HAWT!
Clémence Poésy
Senior Member
Join Date: Mar 2004
Posts: 27,726
---
Dementia
Serena X Venus
Holy "TF FAVOURITES" Trio- Азаренка X Q.V. Radwańska X KAMAN Woźniacka

Roland Garros 2017 - Jelena Ostapenko
Senior Member
Join Date: Nov 2004
Posts: 301
The Colonel may have finger licking chicken wings, but Cappy's got chin licking bingo wings.
Look like she made a deal with Aquafresh...
lol.
---
"誰も私を止める停が出来なかったか"
- Jinpachi Mishima
- Jedah Douma
"恐れてはいけない. 私は最初であり, 最後である"
this is old.
---
Women's tennis sucks.
~


Go Rafa.

Quote:
Originally Posted by esquímaux
lol.
Posting Rules

You may not post new threads

You may post replies

You may not post attachments

You may not edit your posts

---

HTML code is Off

---