Two days ago Kids
---
Now they are grand slam champions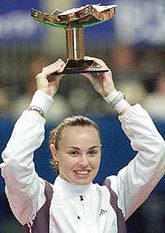 Senior Member
Join Date: Jul 2004
Location: Leave me alone, stalker!
Posts: 654
Damn, kids are so ugly
Especially that boy at the end
Svetlana was the cutest kid, but Martina became the most beatiful woman IMO.
Senior Member
Join Date: Jul 2004
Posts: 475
Quote:
Originally Posted by TartarVicario
Now they are grand slam champions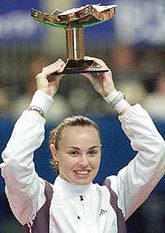 Is that little girl going bald I think it's Martina Hingis. Who's that little boy at the end in the glassed.
Senior Member
Join Date: Mar 2004
Posts: 27,726
that glasses boy
everytime i c that poto i will
---
Dementia
Serena X Venus
Holy "TF FAVOURITES" Trio- Азаренка X Q.V. Radwańska X KAMAN Woźniacka

Roland Garros 2017 - Jelena Ostapenko
at least she turned out great looking unlike some people who can't say the same thing about themselves
---
MARIA SHARAPOVA: "Amélie, you know it doesn't really matter at this point. I mean,
I'd love to
, I mean, Amélie is No. 1 in the world. She's playing great tennis. You know, I love that challenge of going out there and competing against the best in the world."
You'd love to what, Maria?
Quote:
Originally Posted by prowler
This Amelie bashing gets more ludicrous by the day! What do you want her to do, crawl back to the chair???? For heavens sake who gives a toss how she gets back to the chair!
Quote:
Originally Posted by Dawn Marie

Amelie FINALLY won two slams I mean let the woman RUN to her fucking chair.
Justine was a scary kid
---
Why is it that the world never remembered the name of Johann Gambolputty de von Ausfern-
schplenden-schlitter-crasscrenbon-fried-digger-dingle-dangle-dongle-dungle-burstein-von-
knacker-thrasher-apple-banger-horowitz-ticolensic-grander-knotty-spelltinkle-grandlich-
grumblemeyer-spelterwasser-kurstlich-himbleeisen-bahnwagen-gutenabend-bitte-ein-
nürnburger-bratwustle-gerspurten-mitz-weimache-luber-hundsfut-gumberaber-shönedanker-
kalbsfleisch-mittler-aucher von Hautkopft of Ulm?
i think the purpose of this thread is not for you to redicule these great players when they were younger but in remembrance of how they blossomed into GS champions.

Its childish for you to bash these players because of how they look like when they were young.

At least when they grow up, they achieved more than you all can 100x of your lifetime!

and have you looked into your old pictures?

hint: The Ugly Duckling

everyone goes in a stage of being ugly. and as a child you have no clue. vanity only comes later in your life.
i dont want to be rude
but i think justine looks ugly now and then
but she improved though
good job girl
but probably she dont really care about her looks
as long her tennis is good
she dont care ..
but its funny
reminds me of harry potter
---
Serena Williams
Martina Hingis

Petra Kvitova - Svetlana Kuznetsova - Sloane Stephens - Madison Keys - Elena Vesnina - Venus Williams - Belinda Bencic

Will Always Love Kim Clijsters, Elena Dementieva, Li Na and Vera Zvonareva
Posting Rules

You may not post new threads

You may post replies

You may not post attachments

You may not edit your posts

---

HTML code is Off

---