Bacsinszky ends season
---
Has not played since Wimbledon.
Needs a tiny surgery on her left wrist. Hopes to be back in the beginning of 2018.
Re: Bacsinszky ends season
---
I hope she is back and at 100% right from the beginning of next year. She is a lovely, sweet girl and she has a very individual, distinctive game that makes her a big asset to the tour. That she is one of only maybe half a dozen players on the tour to frequently use a forehand slice obviously counts for a lot in my book as well.
And yeah, that backhand is pretty awesome.
---
Re: Bacsinszky ends season
---
Timi
Re: Bacsinszky ends season
---
it's actually her right hand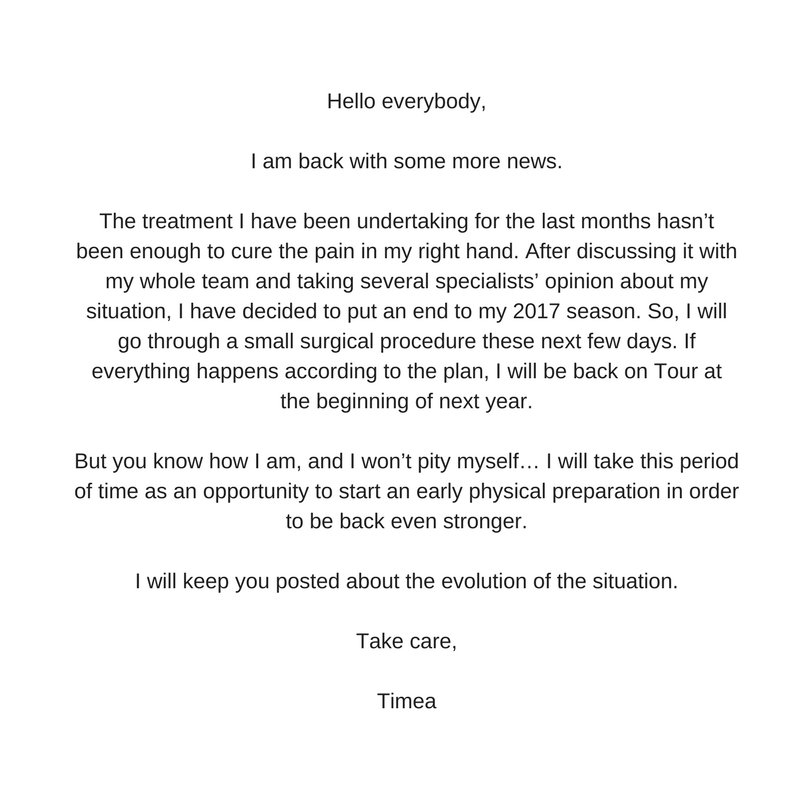 really sad. been hoping she'll be back since beginning of american swing, sadly the whole season had been revolved by injuries, she barely played a third of it.
wish she rest well and come back even stronger in 2018
---
FITD 2016 Stanford ✌ Linz ✌
2017 Beijing RU
CHR #14

TT "double specialist"
S: #32b Hechingen ✌
D: #14c Istanbul RU #21c Luan ✌ #24d Barcelona ✌ #28b Budapest ✌ #30c Prague ✌ #31d Bad Saulgau RU
Senior Member
Join Date: Jun 2017
Posts: 494
Re: Bacsinszky ends season
---
Timea
always a good decision not to rush a come-back after an injury. See you next year!
Re: Bacsinszky ends season
---
Thanks for the update! Was wondering what was going on.
Hoping to see T stronger than ever next season.
Also would love to see her play doubles with Martina again, really hoping Switzerland can finally grab the FedCup Title and I love the way they play together. The ONLY thing missing from Martina's resume(besides RG singles obvs).
---
Venus Masha Caro Sloane
Timea Aga Petra Vika Kristyna&Karo Keys Carina
Osaka Bencic Sveta Simona Broady Vinci CiCi Mladenovic Garcia JJ Errani Duval

Martina Hingis Forever!!!
Re: Bacsinszky ends season
---
Hope the surgery is a success & get well soon
---
Re: Bacsinszky ends season
---
Something was not quite right with Timea this year, hope it all goes well.
---
Quote:
Venus easily
Konta has already turned into a pumpkin which she's been all her career
Konta reaches the semi final of the Australian open .
Quote:
Oh honey, try winning a few more titles and becoming mor relevant first. This feels premature, to say the least..
Muguruza wins a slam two weeks later.......
Posting Rules

You may not post new threads

You may post replies

You may not post attachments

You may not edit your posts

---

HTML code is Off

---