Re: WG II PlayOff: Slovakia - Uzbekistan
---
R1 - M.RYBARIKOVA (SVK) def. A.AMANMURADOVA (UZB)
7-6(4) 6-2
Re: WG II PlayOff: Slovakia - Uzbekistan
---
Magda.
Re: WG II PlayOff: Slovakia - Uzbekistan
---
Quote:
R1 - M.RYBARIKOVA (SVK) def. A.AMANMURADOVA (UZB)
7-6(4) 6-2
UZB had to win that match to stand any chance overall.
---
IRODA TULYAGANOVA
_____________________ COACH TO THE LITTLE KING

DONNA VEKIC LAURA ROBSON HEATHER WATSON STEFFI GRAF SERENA WILLIAMS
JELENA DOKIC AKGUL AMANMURADOVA SESIL KARATANTCHEVA SABINE LISICKI
VALENTINO ROSSI MARC MARQUEZ LEWIS HAMILTON SEBASTIEN LOEB __________
Senior Member
Join Date: Aug 2006
Posts: 911
Junior Member
Join Date: Sep 2006
Posts: 1
Re: WG II PlayOff: Slovakia - Uzbekistan
---
Dominika Cibulkova has a boyfriend named Gaël Monfils t
hat support her in Bratislava against Uzbekistan!!!
See Photos and article.
Gael Monfils prišiel povzbudiť Cibulkovú
Gael Monfils (21 r.), francúzsky tenista, roku 2006 na svete 23., aktuálne 64. v rebríčku ATP, prišiel do Sibamac arény NTC povzbudiť svoju priateľku Dominiku Cibulkovú. "Poznáme sa vari dva roky. Na Slovensku však nie som prvý raz, hral som tu na turnaji v Nitre ako šestnásťročný," prezradil zaujímavý hosť fedcupového stretnutia Slovensko - Uzbekistan. Pohodlne sa v piatok posadil do lóže a sledoval svoju priateľku na tréningu. Monfils prišiel do Bratislavy z Monte Carla, kde podľahol vo štvrtok Federerovi.
monfils.jpg
Po tréningu Dominiky Cibulkovej si Monfils krátko zahral na antuke Sibamac arény s jej trénerom Vladimírom Pláteníkom. Francúzsky tenista, roku 2004 juniorská svetová jednotka a trojnásobný grandslamový víťaz v tejto kategórii (Australian Open, Roland Garros, Wimbledon), zostane v Bratislave na sobotňajší program Pohára federácie, v nedeľu už letí na turnaj do Mníchova.
1.jpg
---
Last edited by fredc66; Apr 27th, 2008 at

02:40 PM

.
Re: Some pics from Saturday, April 26, 2008
---
Great photos, thanks!
Any more pics of Iroda, or any other Iroda info, please post
---
IRODA TULYAGANOVA
_____________________ COACH TO THE LITTLE KING

DONNA VEKIC LAURA ROBSON HEATHER WATSON STEFFI GRAF SERENA WILLIAMS
JELENA DOKIC AKGUL AMANMURADOVA SESIL KARATANTCHEVA SABINE LISICKI
VALENTINO ROSSI MARC MARQUEZ LEWIS HAMILTON SEBASTIEN LOEB __________
Senior Member
Join Date: Aug 2006
Posts: 911
Professional pics
---
Plus 1 deň
(Cibulkova, Rybarikova, Amanmuradova)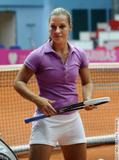 Dominika: Practice with coach Platenik. Copyright: TASR
One more Iroda
Posting Rules

You may not post new threads

You may post replies

You may not post attachments

You may not edit your posts

---

HTML code is Off

---