Re: WG II PlayOff: Slovakia - Uzbekistan
---
R1 - M.RYBARIKOVA (SVK) def. A.AMANMURADOVA (UZB)
7-6(4) 6-2
Re: WG II PlayOff: Slovakia - Uzbekistan
---
Magda.
Re: WG II PlayOff: Slovakia - Uzbekistan
---
Quote:
R1 - M.RYBARIKOVA (SVK) def. A.AMANMURADOVA (UZB)
7-6(4) 6-2
UZB had to win that match to stand any chance overall.
Senior Member
Join Date: Aug 2006
Posts: 911
Junior Member
Join Date: Sep 2006
Posts: 1
Re: WG II PlayOff: Slovakia - Uzbekistan
---
Dominika Cibulkova has a boyfriend named Gaël Monfils t
hat support her in Bratislava against Uzbekistan!!!
See Photos and article.
Gael Monfils prišiel povzbudiť Cibulkovú
Gael Monfils (21 r.), francúzsky tenista, roku 2006 na svete 23., aktuálne 64. v rebríčku ATP, prišiel do Sibamac arény NTC povzbudiť svoju priateľku Dominiku Cibulkovú. "Poznáme sa vari dva roky. Na Slovensku však nie som prvý raz, hral som tu na turnaji v Nitre ako šestnásťročný," prezradil zaujímavý hosť fedcupového stretnutia Slovensko - Uzbekistan. Pohodlne sa v piatok posadil do lóže a sledoval svoju priateľku na tréningu. Monfils prišiel do Bratislavy z Monte Carla, kde podľahol vo štvrtok Federerovi.
monfils.jpg
Po tréningu Dominiky Cibulkovej si Monfils krátko zahral na antuke Sibamac arény s jej trénerom Vladimírom Pláteníkom. Francúzsky tenista, roku 2004 juniorská svetová jednotka a trojnásobný grandslamový víťaz v tejto kategórii (Australian Open, Roland Garros, Wimbledon), zostane v Bratislave na sobotňajší program Pohára federácie, v nedeľu už letí na turnaj do Mníchova.
1.jpg
---
Last edited by fredc66; Apr 27th, 2008 at

02:40 PM

.
Re: Some pics from Saturday, April 26, 2008
---
Great photos, thanks!
Any more pics of Iroda, or any other Iroda info, please post
Senior Member
Join Date: Aug 2006
Posts: 911
Professional pics
---
Plus 1 deň
(Cibulkova, Rybarikova, Amanmuradova)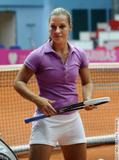 Dominika: Practice with coach Platenik. Copyright: TASR
One more Iroda
Posting Rules

You may not post new threads

You may post replies

You may not post attachments

You may not edit your posts

---

HTML code is Off

---