Senior Member
Join Date: Jul 2010
Location: Melbourne
Posts: 73,156
[Who? What? Where?] - [Rankings] - After Week 16
---
Singles Rankings (After Strasbourg & Lucerne)
Doubles Race
Weeks at No.1
Senior Member
Join Date: Jul 2010
Location: Melbourne
Posts: 73,156
Re: [Who? What? Where?] - [Rankings] - After Week 16
---
even Bojana has chance for no.1 after RG
Top 3 is sooo close
Re: [Who? What? Where?] - [Rankings] - After Week 16
---
No ^Serena/Venus has a W not F
---
MEMBER OF RENA'S ARMY
Senior Member
Join Date: Jul 2010
Location: Melbourne
Posts: 73,156
Re: [Who? What? Where?] - [Rankings] - After Week 16
---
oops, i'll fix that later. but you still got the points for a W.
Re: [Who? What? Where?] - [Rankings] - After Week 16
---
If I've done the math correctly I think I'm not close to being in the YEC if I keep my position.
---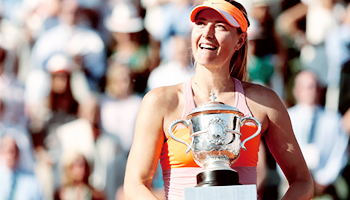 Quote:
Is it really her?
because one time i had a two week conversation with Kirsten Dunst, before i realised she was a fake one
Re: [Who? What? Where?] - [Rankings] - After Week 16
---
Mel stuck at #19
Posting Rules

You may not post new threads

You may post replies

You may not post attachments

You may not edit your posts

---

HTML code is Off

---